Since the car is going to be laid up for sometime while the suspension is being done.  I figured this would be a good time to freshen up the top half of the motor.  I just got a new set of black wrinkle FRPP valve covers, my Canton aluminum valve covers require too much TLC.  The polished aluminum gets so dirty and pitted under the hood.  The only way to keep them looking nice…is to not drive the car or keep polishing them, and to do that requires the upper manifold off.  These are not as flashy, but are worry free.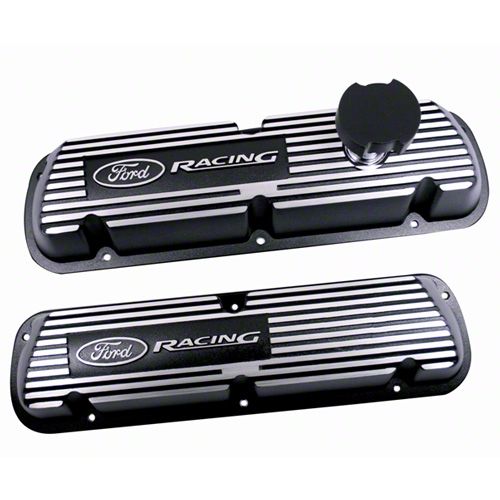 So, since my upper intake has come off to do the valve covers…why not touch it up.  I gave it to a pinstriper and had him paint the inside of the ribs black.  I think it breaks it up a bit and matches the new valve covers.
Why stop there, since the upper intake is off.  Why not take the lower off and have it ported?  This was something I was contemplating when I first got the GT-40.  I've always researched this subject, and I'm a big fan of the Extrude Honed process .  It really smooths out the entire inside surface of the intake.  But, you cannot have this done on the upper tubular intake…there's not enough material, you can have it done on a Explorer upper though.  In the end, I concluded the best bang for the buck was having it hand ported by TMoss Porting.  This is a business by Tom and Matt Moss who have got a good online reputation and get the most out of the lower intake.  Bottom line, sometimes a machine cannot always do a what you can do by hand…I'm talking about smoothing out the runners and cutting down the dog-leg and a few runners.
Before
After:
Comparison: